We mainly provide design and construction of air conditioning equipment, electrical equipment (LED installation work, etc.) and power supply equipment.
Recently, the need for energy saving is increasing in Vietnam, and we will propose the reduction of electric power related to air conditioners first.
We are accepting consultations regarding any problems you may have. Please feel free to contact us.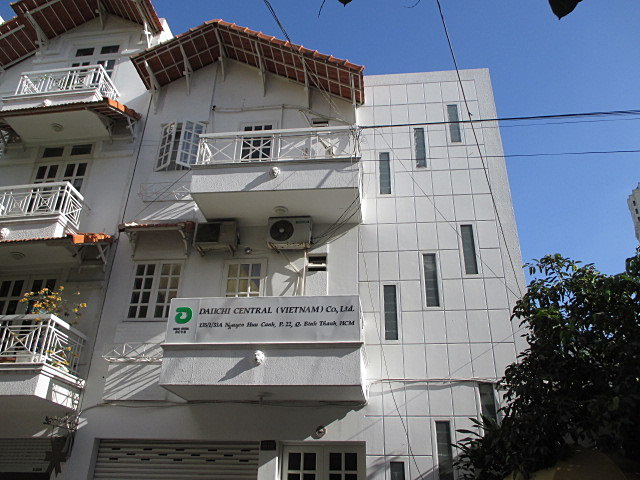 Setting up
14/12/2015
Amount of capital
3,240,000,000 VND (USD 150,000)
Location
135/1/33, Nguyen Huu Canh Street, Ward 22,
Binh Thanh District, Ho Chi Minh City VIETNAM
Employee
3 Japanese staff, 8 Local staff
Responsible person
RYO OYAMA (大山 諒)
TEL
+84-(0)28-6294-5311
FAX
+84-(0)28-6294-4371
Daiichi Central (Vietnam) Co., Ltd.
RYO OYAMA
TEL : 028-6294-5311
FAX : 028-6294-4371
(From within Vietnam)
Introduction of Japanese Corporation (Head Office)
Introduction of Japanese
Corporation

DAIICHI CENTRAL SETSUBI CO., LTD.
(第一セントラル設備株式会社)

*DAIKIN INDUSTRIES, Ltd.
Affiliated company accounted for by the equity-method


Headquarters Location
1-35-5, Motokitakata, Ichikawa Shi,
Chiba Ken, 272-0816
(千葉県市川市本北方1-35-5)
Representative
MIYAMA HIROKAZU / 深山 浩一 (President and CEO)
Business Content
*Air Conditioner Installation and maintenance service.
*Power Supply System Installation.
*Provide production facilities for local procurement.
*Evaluation of electricity consumption, suggest how to reduce it.
Website
https://www.dcsk.co.jp